Soraya, graduated from Beaconhouse National University, Lahore, Pakistan draws her inspiration from nature, which result in a wide variety of visually stunning and harmoniously conceived compositions. Through her paintings, Soraya captures the magnificence of the floral kingdom. She describes her work as;
"Depiction of a magnificent being, nature. A larger than life, immeasurable world, summed into a picture. Mother Nature cannot be captured entirely without being overwhelmed, therefore, humbly, I breakdown the beauty, bit by bit, piece by piece.
So we admire a solitary rose, a leaf, and an entire tree beaming with sunlight or covered with shade - as scenery, from the vast grandeur of the eternal nature."
Soraya painted roses, lilies, carnation, gladiolas, hydrangea and baby's breath. It shows her inspiration and a great admire of nature. She endeavor to project beauty through her work and show an alternative side, one where flowers grow and life flourishes.
An important aspect of her work is that she produced paintings that are contrary to the popular art produced nowadays that depicts terrorism and has an almost depressing effect on the viewer. Soraya's paintings lift viewers' spirits, and send out a message of peace in chaos and mayhem. Through her paintings she makes people feel moved and alive.
A Floral Harmony was Soraya's first solo show that was well-received.
Pakistan Art Review: Current Issue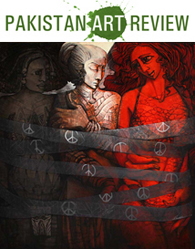 Now and Upcoming Events
The International Exhibition of Calligraphy' 2015
12th March – 12th April, 2015, the Contemporary Museum of Calligraphy, Moscow
'Determination', solo show of Muhammad Ismail Art Chowk The Gallery presents 'Determination', solo show of Muhammad Ismail 18-30 Nov, 2014, 5:00 pm
The Art of Our Time: Masterpieces from the Guggenheim Collections Guggenheim Museum Bilbao
September 23, 2014–May 3, 2015
7th Edition of India Art Fair NSIC Exhibition Grounds, New Delhi 110020
29th January, 1st February, 2015
Major Miniaturists: modern miniature paintings Unicorn Gallery, D116/1A, Block 4, Clifton, Karachi
20th - 30th November, 2014