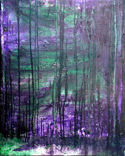 Critically acclaimed painter Soraya Sikander has known one after another commercially successful exhibitions. The only Pakistani artist to be trained at the London Atelier of Representational Art, Soraya is described as one of South Asia's must watch artists. With over twelve international exhibitions to her credit, she is best known for the series 'In, at, around' which has drawn collectors attention and enjoyed popularity for two years continuous.
Soraya is a TEDx art speaker lecturing on art's ability to condition and influence people. Her work has been reviewed by Hello! Magazine, Khaleej Times, Gulf News, The Gulf Today, Islamic Arts Magazine, Professor Gerda Roper, Juliet Highet.
Soraya's body of work can be described as environmental and social activism. Through her paintings she draws attention to the natural world, creating a contrast with the man-made.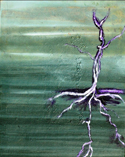 Cutting-edge and experimental, her paintings are narratives of the transformative nature of cities and places.
The artist always paints outdoors, working in a studio environment only when extreme weather forces make it impossible for her to paint on location. Most of her paintings are textural. Having a sound knowledge of art history and solid grounding in fine arts, Soraya builds her paintings layer upon layer effortlessly. Her works is distinguished for light, tone and texture and is reminiscent of the work of old European masters. She has been offered an honorary MFA at a British university, artist residency in the States, and a Biennale showing in Europe. Soraya Sikander events and dates announcement can be found at her web portal www.sorayasikander.com.